Reading Time:
4
minutes read
There are times when you want to buy several necessities but don't want to pay it all at once due to some financial issues you are dealing with. Well, there is a perfect solution you can consider to solve this issue, which is through the buy now, pay later (BNPL) service!
In case you are unfamiliar with BNPL services, they operate very similarly to credit cards. To make large purchases more manageable, BNPL offers interest-free financing in the form of monthly payments.
To give an example, the BNPL provider will function as a middleman in your transaction by first purchasing the item from the retailer (while taking a service fee). Then, you will make instalment payments to the BNPL service provider. Just like with credit cards, late payments will result in penalties. However, the amount of which varies from service to service.
To make it convenient for you, we have compiled a few BNPL services that are being offered in Malaysia as of 2022. With this list, you can make up your mind regarding which services would suit you the most.
1. SPayLater by Shopee
SPayLater, introduced by Shopee at the beginning of 2021, is the company's first venture into the BNPL market. According to Shopee, only eligible and selected Shopee users will be given the option to activate and use the SPayLater service. But, the company is working to make the SPayLater service available to more users in the near future. Here's what you should know about the Shopee BNPL service:
A Malaysian citizen, 18 years or older & a valid MyKad / MyPR holder for eligibility for the service
Allows you to spread out your payback over 2 months, 3 months, 6 months, or 12 months (only for certain customers), with a processing fee of 1.25% on the total payment/order amount.
A spending limit is imposed based on your payment history and spending habits. On the SPayLater page, you can see your total and remaining spending limit
RM 10 will be imposed for late payment and reactivation of the frozen account.
2. Atome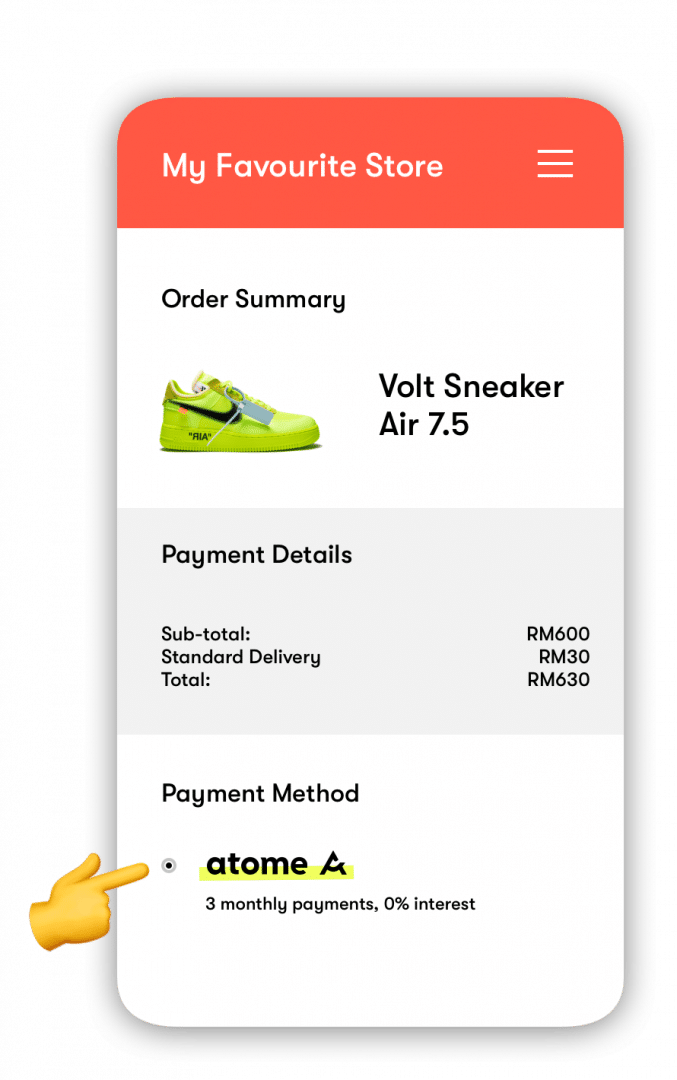 Atome is one of the largest BNPL platforms in Southeast Asia and is available in Singapore, Malaysia, Indonesia, Hong Kong, and Mainland China. Over 2,000 online and physical stores including Zalora, Agoda, Machines, Starbucks, Coach and Sephora are affiliated with it. The app can be downloaded from Google Play and App Store.
Atome divides your bill into three equal instalments. The first payment will be made at the time of purchase. The following two payments will be separated by 30 days. There will be no interest or hidden fees.
The credit limit is RM1,500 for non-credit card users, and RM5,000 for credit card users.
If you miss a scheduled payment, you must pay all outstanding balances and a RM 30 administrative fee. The maximum admin fee per order is RM60.
3. Hoolah
Hoolah debuted in 2018 and it is a BNPL service based in Singapore. It entered the Malaysian market the next following year, and currently, it is also expanded to Hong Kong.
Hoolah establishes credit limits based on user assessments and just like Atome, it offers a three-month repayment period
Every month, your chosen payment method (debit/credit card) will be automatically charged the amount due.
The late payment charge varies depending on your order value:
For order value of RM 0.00 – RM 99.99 = RM 7.70
For order value of RM 100.00 – RM 499.99 = RM 25
For order value of RM 500.00 and above = RM 75
4. FavePay Later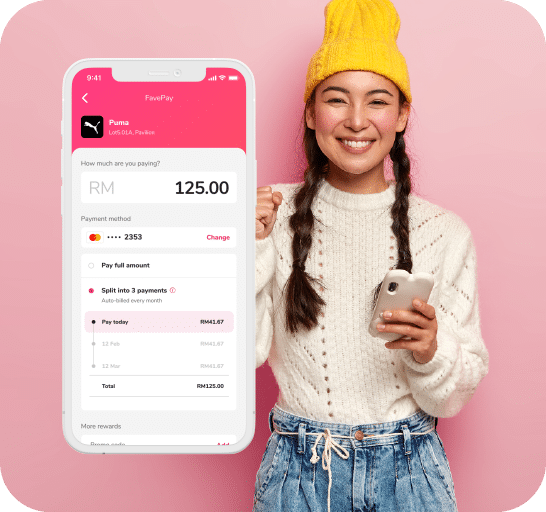 FavePay Later allows you to divide your FavePay transactions into three monthly instalments with ZERO interest. With this BNPL service, Customers can also earn up to 10% cash back on every transaction made. Moreover, it has more than 40,000 stores (in-store and online stores) in Singapore and Malaysia that accept FavePay Later which includes Puma, Marks and Spencer, Pandora and more.
The only payment methods permitted for FavePay Later are locally issued credit cards and CIMB debit cards (for existing Malaysia users) that are not shared with other Fave accounts and have a validity of more than 3 months.
After 7 days, a late fee of 1.5% of the total due will be imposed.
The credit limit is based on user assessment
5. PayLater by Grab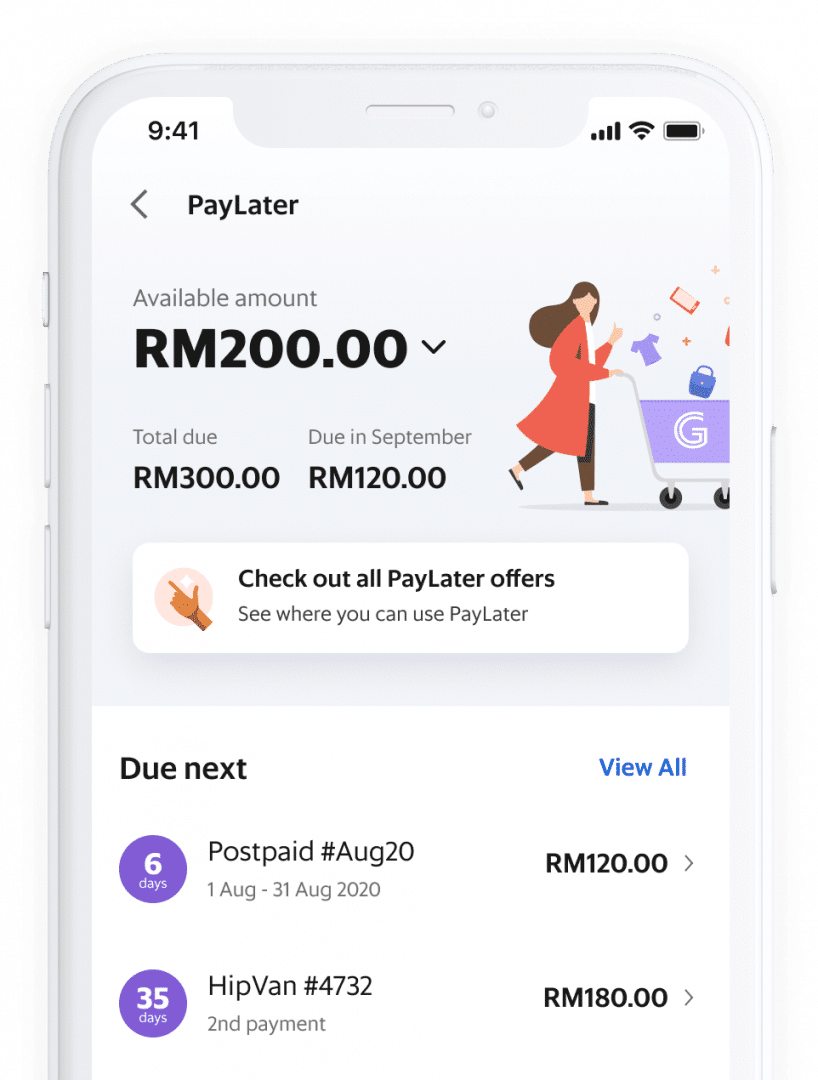 PayLater by Grab is a payment option that allows you to order Grab rides, GrabFood, and GrabExpress, as well as make purchases from chosen online merchants including dUCK, Zalora and more. You are eligible for PayLater if you are an existing Grab user for 6 months, age 21 years and older, verified account, and are a Platinum, Gold or Silver GrabRewards tier member.
Each user has their own PayLater limit. Spending limits can't be changed.
Users have the option of making a single payment at the end of the next month (PayLater Postpaid) or spreading the cost over four payments (PayLater).
In the event that a user on an instalment plan fails to make a payment, their PayLater account will be temporarily disabled. The cost to activate again is RM10.
With this list, we hope that you will be able to make a suitable choice if you ever decided to try out the BNPL service. It can be seen that the BNPL ecosystem is growing rapidly although, in Malaysia, most of the BNPL services offered are dominated by foreign players. Anyway, it is important to always manage your spending strategically!