Reading Time:
3
minutes read
YouTube is the most used video streaming platform. Daily there are millions of active user who are watching YouTube videos on their smartphone. Due to the high usage of the YouTube app on both iOS and Android, Google had to develop a new feature to make sure users like using the YouTube app.
Recently, Google has updated its YouTube app for both iOS and Android devices. During this update, Google has developed a few features for smartphone users. Using this feature, users can watch videos on YouTube continuously. We have tried the feature which we about to show you guys now.
Use gesture to watch videos in full screen
The first feature Google unveils was gesture control. Nowadays, people likes to use gesture to achieve their task. Google has just bring in the gesture control for its YouTube app. Now, using the gesture control you can enter video into full screen easily. Before this, you need to either rotate the video in order to enter full screen or tap on the full screen icon while watching YouTube videos on your smartphone.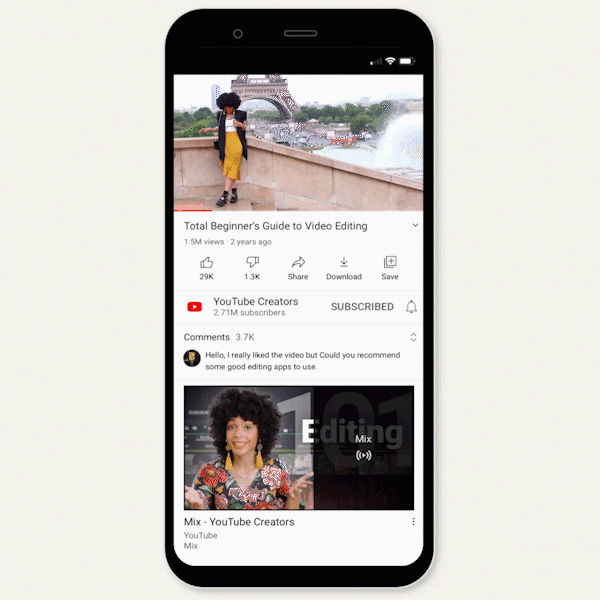 Using the new gesture feature, you can easily swipe up to play videos in full screen. While watching videos, you can easily exit the full screen by swiping down on the playback window. With this, you don't have to worry about exiting the application on both iOS and Android devices.
Skip videos using video chapters
The second feature which Google added on the YouTube app is a video chapter. This is one of our favourite features. The reason is that when you are watching longer duration videos, most of the time the person who uploads the video will be adding the specific timestamp for each chapter. Previously, you need to tap on the timestamps in the description in order to skip the videos. Now, users can easily tap on the chapter title beside the video timestamp. Then the video chapter page will pop up. From there it will be much simpler to navigate between the video chapters.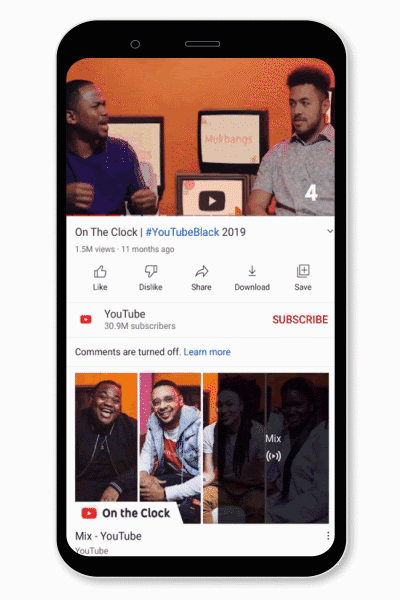 YouTube reminds you to go to sleep
Apart from that, there is another new feature for those people who are less patient. Some people, tend to always tap on the video to see how long it takes to finish the video. If you are that type of person, then now you can easily tap on the video duration while playing the video. This will show the remaining time for the video to finish playing and also the time elapsed in the video. We believe this feature could be really useful for both iOS and Android users.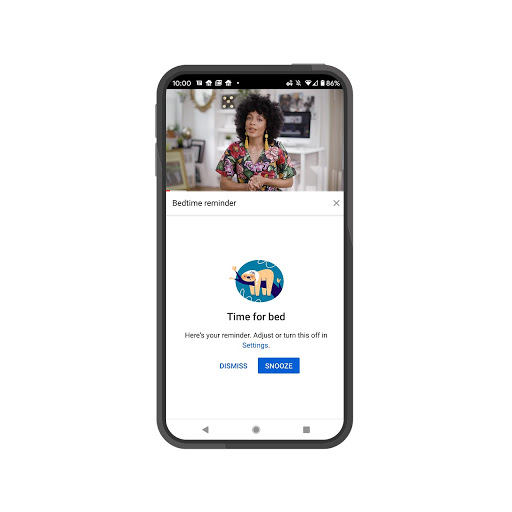 Another feature which Google rolls out for YouTube is bedtime reminders. Google knows that millions of users are active on YouTube daily. However, sometimes kids and also working people tend to spend more time watching YouTube videos during night. This causes their health to be affected tremendously.
In order to avoid this type of issues, now users can set bedtime reminders to stop watching YouTube videos. It is very simple to activate this feature. All you need to do is head over to your Settings page on your YouTube app. Then there should be a new button "Remind me when it's bedtime". Upon tapping on the button, you can choose your bedtime and also your wakeup time. Once pressing the OK button, next time when you are watching videos during the night, YouTube will remind you to stop watching videos when its late night.
In conclusion, YouTube new features really show that Google is focussing more on its users. These features which we mentioned above, is available on both iOS and Android devices. For more tech updates follow our Facebook page.