Reading Time:
4
minutes read
Malaysia is now progressing into the new norm as companies have started opening up and most people have gone back to the office. The tourism sector is also welcoming fully vaccinated locals a chance to kick back and enjoy their vacation.

Getting back to the groove of moving around, we suddenly find ourselves being occupied and busier than before. Coming home to a messy house after a long, tiring day out and then forced to work up the motivation to clean. Why not give yourself one less thing to worry about and get a little cleaning buddy to help you out – realme TechLife Robot Vacuum.

Here are FIVE reasons realme TechLife Robot Vacuum would be your best cleaning buddy :

1. Sparkly Clean Floors
First things first, how clean is clean? Vacuums are usually just suction devices to remove dust, you are still left needing to get out the mop with a pail of water and start mopping away with all your might to ensure the floors are actually clean. But the realme TechLife Robot Vacuum features a 2-in-1 vacuum and mop function that meets all your cleaning needs for a spik and span floor. The robot vacuum doesn't just remove dust, it also ensures your floors are sticky-free.

You know how there are vacuums that make a lot of ruckuses however you still find dust lingering about the floors, the realme TechLife Robot Vacuum ensures cleanliness as it provides a super-high suction power of 3000Pa which enables it to deeply suck up dust from crevices. But you don't need to use such powerful suction all the time that's why the robot vacuum has 4 different levels of suction, 500Pa Quiet, 1200Pa Normal, 2500Pa Turbo and 3000Pa Max for you to choose the level of which is required for certain areas.

When the robot cleans the hard-to-clean areas like carpets or wall edges, its speed automatically reduces and its vacuum power is boosted to ensure the deepest clean possible. You need not worry if your rugs or crevices aren't taken care of, it will be efficiently cleaned with this little guy.

2. State-of-the-Art Sensor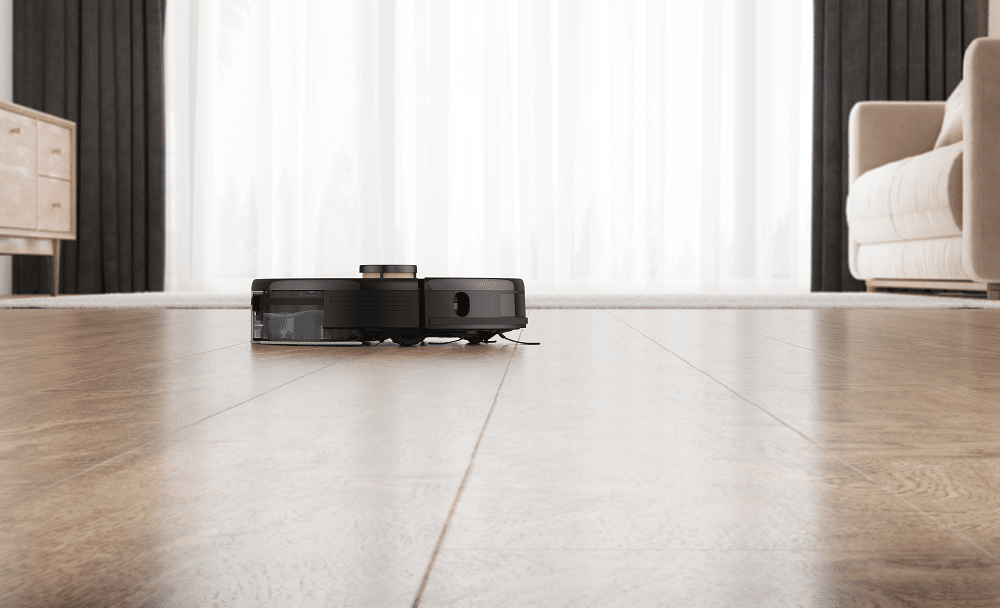 Not only does it clean efficiently, but it is also independent enough to make its way around your house as it cleans. This realme TechLife Robot Vacuum is equipped with a whopping 38 sensors, one of which being the most crucial sensor for the robot vacuum to navigate precisely in real-time, the LiDAR.

LiDAR is a state-of-the-art technology that is commonly used as a navigation system for electric vehicles and aircraft. With LiDAR, the robot vacuum has fast and accurate real-time navigation and precise in-app room mapping. Basically, it is able to calculate the positioning and orientation with respect to its surroundings accurately which enables better path planning while avoiding bumping into furniture it comes across when cleaning. It's like having eyes at the back of your head, you're completely aware of your surroundings.

3. Not Home? No Problem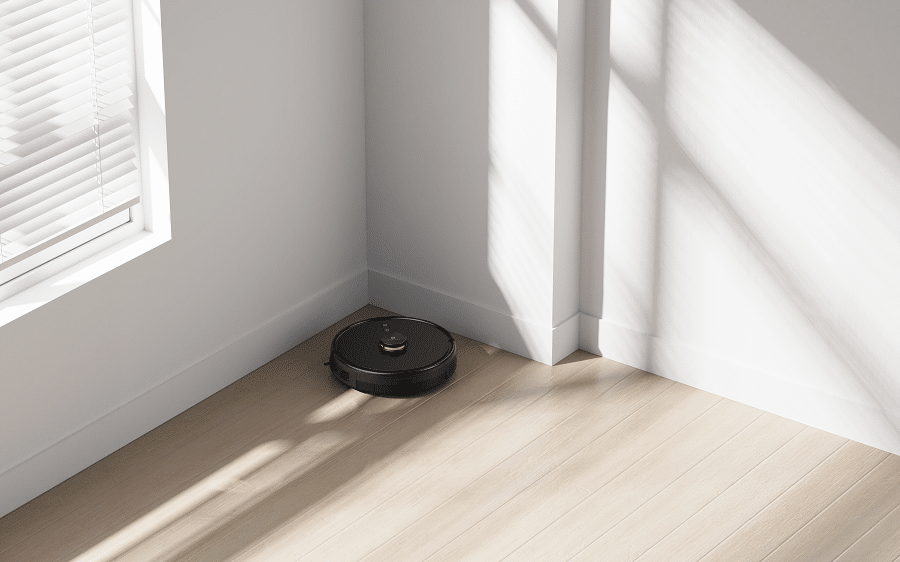 You know when you're staying at a hotel and after a long day out you find yourself greeted by a clean room thanks to the housekeepers. It truly is one of the highlights of being on vacation and this robot vacuum is able to give you that very sensation every day.

The realme TechLife Robot Vacuum is designed to work with realme Link which gives you complete control of the vacuum through your phone. You can choose where, when and how you would like an area cleaned even if you were overseas. For instance, you can configure the robot to clean the living room with minimum water and normal vacuum power, then use the highest water and vacuum power to perform a deep clean of the kitchen and so on. So, schedule the vacuum to clean during working hours and after a tiring day, you would be greeted with clean floors.
4. Set Boundaries
Boundaries are important in every relationship and can also be extremely useful in your relationship with your cleaning buddy. There may be areas in your home you don't want to be disturbed or cleaned, the realme Link app enables you to set virtual walls and no-cleaning zones which can help you better plan cleaning routes at home.

Plus, the robot vacuum always strives to give you its very best as it is constantly refining the map of your home to better execute its cleaning process and navigate through efficiently. A satisfactory, worry-free cleaning process and you don't have to even be present.

The robot vacuum is also capable of storing up to 5 different maps. So, you need not purchase 3 different robots for your 3-storey home, this little guy is more than enough.

5. Voice Command
Just when you thought it couldn't get any better, realme TechLife Robot Vacuum strikes again with this feature that takes easy cleaning to another level. This vacuum works with Google Assistant and Alexa, so you can be exhausted, lying in bed and a few words is all you need to begin or end the cleaning process.
Give the robot vacuum a name, like for instance, Robot Bob. All you have to do is lie around and say "Alexa, turn on Robot Bob," and there he goes. Easy peasy.
Cleaning takes up a lot of your time and energy which is not a fun experience on tiring days. So, give yourself the break you deserve and make realme TechLife Robot Vacuum your cleaning buddy. It is priced at RM1,999 and you can get your hands on it at realme authorised stores very soon. So do follow our Facebook page as well as Instagram at @realmemalaysia and be on the lookout to find out more about realme TechLife Robot Vacuum.