Reading Time:
3
minutes read
UPDATE: Apple Pay has officially arrived in Malaysia
UPDATE: At the moment, we have noticed that AmBank has quietly removed the page from its site. As well as the videos on setting up Apple Pay has set to private for now. This clearly means the video will be live any time soon. Nevertheless, it is official that Apple Pay is coming very soon to Malaysia. Let's expect Apple to make an announcement next month during its iPhone 14 series launch event.
---
In the past few days, we have been following the trail of clues left by Apple Pay regarding its arrival in Malaysia. Now, we finally got the confirmation! AmBank unveiled that Apple Pay has come to Malaysia and you can now add your AmBank Card to your wallet to experience the payment service.
On its website, AmBank provides YouTube videos showing step-by-step how to add a card to Apple Pay and how to pay for purchases in stores. In order to know whether the store support Apple Pay, you need to look out for either Apple Pay or the familiar 'wave' symbol. Then you can proceed with the payment by tapping your iPhone on the reader screen and using Touch ID or Face ID to verify the transaction.
On top of that, AmBank also offers an RM50 Cashback (Capped at RM20) for your first Apple Pay transaction. In terms of transaction limits, AmBank stated in its FAQ that there is no transaction limit for Apple Pay for contactless/payWave or online payments.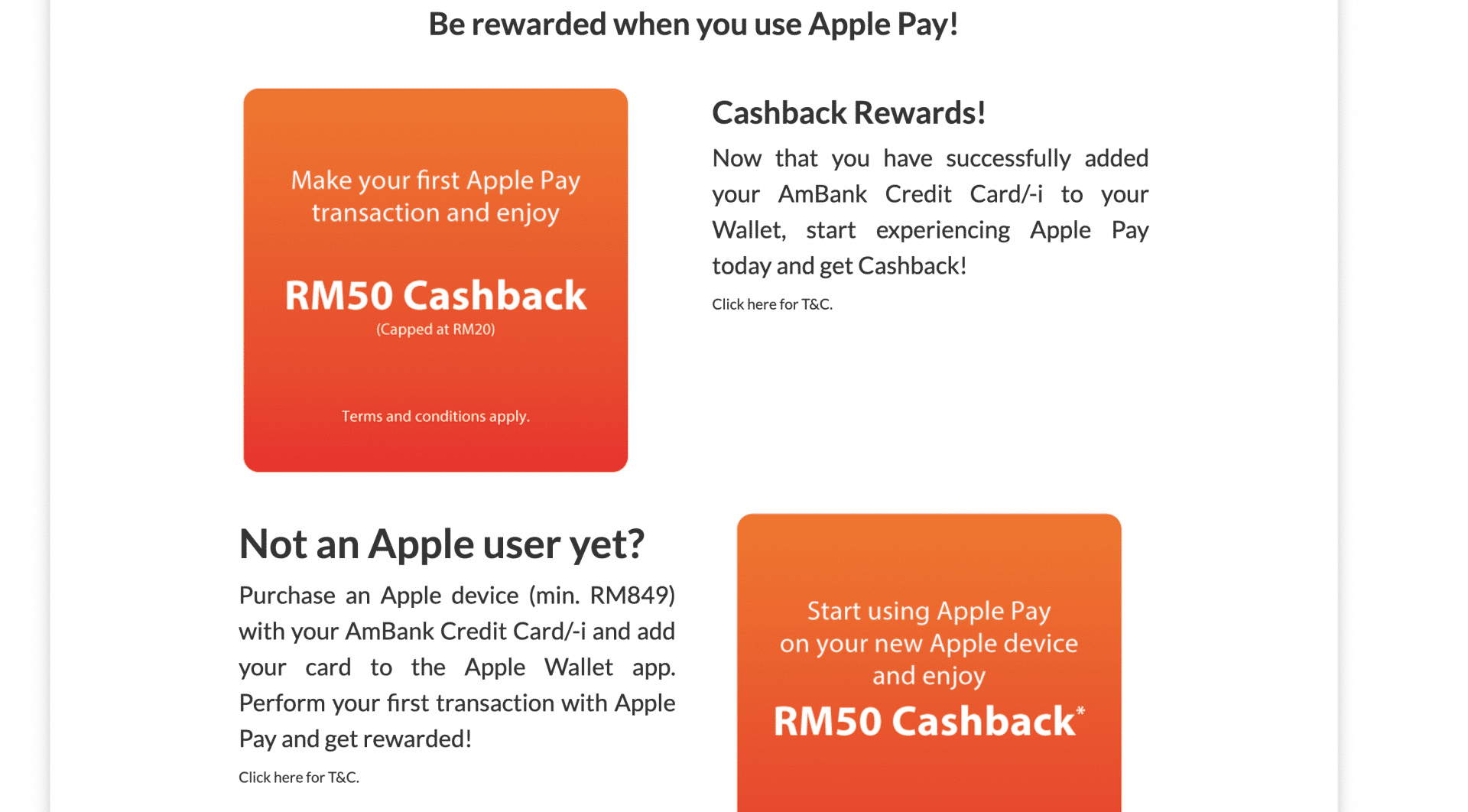 However, Apple Pay has not yet available on iOS 15.6 but it will work on most iPhone, Apple Watch, iPad and Mac devices. Malaysia users may expect its availability on the upcoming iOS update.
Ever since there is a rumour that AmBank is working on integrating Apple Pay on its platform, it has been the talk of the town but there is no official statement from AmBank's side. However, this recent announcement gives users concrete evidence of Apple Pay's availability. There is also news on Shopee and Maxis that might feature Apple Pay soon.
Source: AmBank